We are extremely proud of our hand crafted range of timber boards, platters and carvery's, so, we have included this gallery of camphor laurel boards that we have created in the past. You can use these pictures to inspire your own board design or we can recreate one to perfectly fit your kitchen.
We also have a range of extra's that include handmade glazed pottery bowls, stainless steel trays and cheese knives with magnets, that you can add to your chopping board/platter to turn it into a beautiful individual piece.
Our Range of Wooden Carvery Boards
With special grooves, drip trays, and serving areas, the carvery is for those who take pride in their BBQing and Roast skills.
Our Range of Wooden Cheese Boards and Platters
If you are like Lisa, you'll be either too busy, or too lazy to fuss over entertaining! These gorgeous cheese boards and platters let you throw things together and really show off the ingredients with a minimum of effort.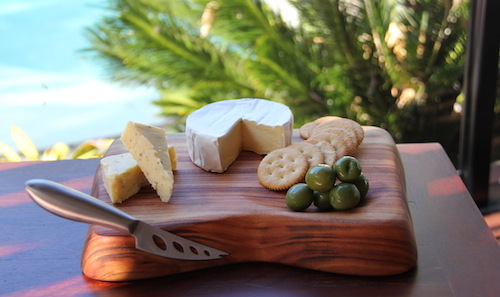 Our Range of Wooden Chopping Boards
The classic wooden chopping board in different shapes and sizes to suit your needs. Antibacterial, solid and long lasting.